Chanel
is one of my favourite brands for makeup. Although it is really expensive, it is very difficult to find an item that I do not like. I could have the whole counter at home. One of my favourite products is the new primer
Le Blanc
. I have had the opportunity to use a generous sample that has lasted for months, and I am sure that one day or another I will definitely purchase it. This product is an amazing primer. I used it with my foundation brush, just like 5 or 6 drops on my hand and I worked it all over my face. It blends perfectly and your skin looks great, it suddenly has a lovely glow. With some concealer underneath, the result is already incredible. It does not whiten your face at all. But when you apply foundation, you can notice it makes the brush run smoothily. The most remarkable aspect is the glow on your face. Every foundation becomes creamy and the appearance of your face is flawless.
Chanel es una de mis marcas preferidas en cuanto a maquillaje. Sus precios son, en fin, son Chanel. Y es difícil encontrar una sola cosa que no me guste. Podría traerme el stand a casa. Uno de mis productos preferidos es el nuevo primer Le Blanc. He podido probar una minitalla que me ha durado meses y estoy segura de que un buen día me animaré a comprarlo. Es una prebase excelente. La he estado utilizando con una brocha plana, sólo unas 5 ó 6 gotitas en la mano y derecha al rostro. Se extiende fenomenal y la piel queda de cine, como con un brillo especial. Con un poco de corrector, el resultado es asombroso. No blanquea la piel, pero cuando luego aplicas el maquillaje, se puede apreciar como la brocha se desliza más suavemente. Lo más destacable es la luz que le da a la piel. Todas las bases de maquillaje se vuelven más cremosas y la piel queda unificada.
Interesting Tips:
I have also used this one mixed with darker foundations to make them lighter and therefore more appropriate for my skin tone. And it really works as well.

Let skin absorb primers for at least 5 minutes before applying make-up, so that their properties can properly work.
Truquitos:
Lo suelo utilizar también mezclado con las bases oscuras para aclararlas cuando no son de mi tono y funciona muy bien.

Como con otros primers o "pre-bases", se recomienda dejarlos actuar durante unos 5 minutos antes de aplicar el maquillaje, para que la piel absorba sus propiedades y el resultado sea perfecto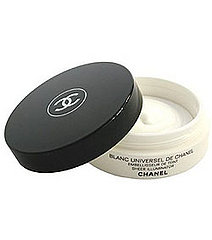 However, I have not got the same opinion about the previous
Blanc Universel by Chanel
, the solid one in the round pot. It is definitely a bad primer in the sense that it does not work to make your face apparently highlighted. This thick paste does make your face look white like a clown. And then, using foundation afterwards was a really mess: my skin was totally dried out and the result was disgusting. Sadly, I have the full product at home so I need to find a way to make it work properly because I really hate how my face looks like after using this one.
No tengo la misma opinión del antiguo Blanc Universel de Chanel, aquel que era sólido y venía en frasquito redondo. Me fue fatal como primer ya que no le aportaba ningún tipo de efecto luminoso a la piel. Era una pasta espesa que le daba color blanquecino al rostro. Utilizar la base de maquillaje después era un desastre ya que resecaba un poco. Aún me queda producto en casa y tengo que encontrarle algún uso.