This is meant to be a selection of my most loved products for the summer time, those cosmetics that I prefer using with hot weather either because they are fresher or more comfortable than others or because they are thought to serve our purposes in summer, say looking fabulous with very few things.
So these are my favourite products for our particular Summer Vanity:


CLINIQUE City Block Sheer Oil-Free Daily Face Protector SPF 25: What can I say about this solar protector? I cannot live without it as soon as the first sun rays start shining. It is definitely my must-have from early June till last September. It has got a very subtle coloration that covers imperfections, evens skin tone and protects from sunburnt. It is perfect for the beach or pool but also for a day out in town, when you want to avoid makeup and be fully protected (it has got SPF 25, there is also SPF 15 and in some countries, SPF 40 as well) but without renouncing to a good-looking skin.
CHANEL Soleil Tan: I really love this collection! It was released in the springtime of the summer of 2008, a series of five different sun powders. I purchased the lightest tone, called 65 Sable D'Or, and the truth is, although I do not think it was the most appropriate for me because it is way too light even though I am quite pale, it has a subtle shimmer that looks great on the skin. It comes with a fantastic double-sized brush, a side is softer, great for the blush area, and the other side is a bit rough, perfect for contouring. You can see the video explaining the product and its application in Chanel website. Did I mention the lovely sand pattern of the powder...?
CLINIQUE Long Last Glosswear SPF15: This was also released last summer and I must say that the whole Spring-Summer 2008 collection for Clinique was awesome. I bought the gloss that was in the promotional picture and it has been my favourite gloss so far. I like the hot pink colour and it is very comfortable on my lips. It looks great with a tan.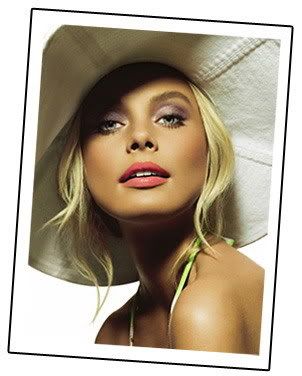 HAWAIIAN TROPIC: And this is my favourite summer brand. I have known their products for a couple of years now and they are great. The best thing about them is their typical coconut smell. It is a delightful scent that reminds me of tropical beaches and dessert islands. I have a lot of their products, from body oil to cucumber after sun and I really love them.
And this is pretty much it! I will continue updating as I get to know more special products for the hot weather...