Following the trend of starting a new month writing about your previous favourite products, I want to write today about those ones which have disappointed me lately. As usual, let me remind you that this is my personal opinion and that maybe they work perfectly for you.
- Haircare:
Herbal Essences Hello Hydration shampoo.
Yes, I know
I wrote about this
when I purchased it, and I was enchanted by its coconut smell, and now I have seriously changed my mind. Now that I have nearly finished it (I compromised myself not to throw products away, but use them up instead and therefore avoid wasting money and build a thorough opinion), I can say that even though it is really cheap, it is not worthy. It leaves my hair matte, shineless and dry. (although it is indicated for dry hairs and apparently has moisturizing properties). But my hair looks awful after months using it. My new purchase will be a shampoo from ICON, definitely.
- Skincare:
Clinique Redness Solutions Soothing Cleanser.
I am going to criticise this
as a makeup remover,
since it does not remove makeup properly. It is a product for really sensitive skins, and maybe because of this, it lacks efficiency in removing all the dirt and makeup. However, I am using this as a morning cleanser, and no problem then. But I would never buy it as a makeup remover even though it is advertised as such (and I would never buy it as a morning cleanser either). The texture is a bit sticky and messy. I have not experienced a relevant reduction of redness. On the positive side, it is gentle and does not irritate my skin.
La Roche Posay Effaclar Duo.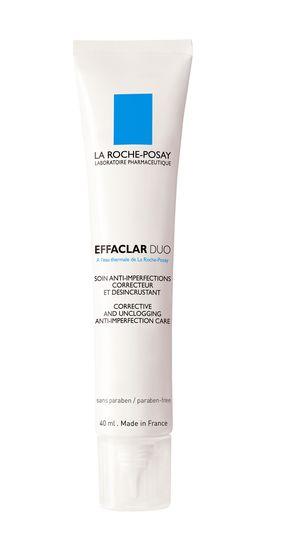 People raved about the components of this treatment for acne prone skin but in the end it disappointed me. It did nothing to my blemishes. It is a good night treatment, nothing too harsh, but probably my skin got used to it and after a couple of weeks with a slight improvement, everything went back to normal BUT, with added dryness and lack of hydration to my skin. I had to stop using it for a while and when I got back to it, nothing happened. I ended it up saying "Duh". I am seriously considering buying Peroxiben.
- Makeup
La Roche Posay Unifiance Creme de Poudre Foundation.
Another product from this brand, and this is because the truth is that I really love it! But some products do not work for me. This foundation is so cakey that the finish is really disgusting. Probably because my skin is not oily at the moment, the effect of this is awful. It does not blend well and it seems I put a thick powdery mask on my face. Since the colour match is perfect, I need to find the way to use this and I would probably try mixing it with a moisturizer.